Island Healing Arts will be CLOSED from December 30th, 2017-February 11th, 2018
Thank you for your patience. I am taking a break for body, mind, and spirit.
Island Healing Arts, a massage studio located on Lummi Island, WA, was founded in 2008 with the goal of providing transformative bodywork. Massage is a powerful support to your health and well-being. I provide the type of massage that I like to receive... vibrant, informed, present. It is my joy and privilege to work with you. I continue to seek out new techniques and to deepen my understanding of the body as a whole, so that I may best serve your wellness goals. I look forward to seeing you in person, and hope this website will give you the information you need.
Please
contact me
with any questions you may have.
Aloha!Michele
---
Benefits of Massage


Promotes deep relaxation and calm
Eases muscle tension and anxiety
Increases circulation
Stimulates the lymphatic system
Improves joint mobility and flexibility
Promotes healing of soft tissue injuries


Types of Massage

What to Expect


I will conduct a brief intake, including a short medical history form, to best assess your needs and determine the goals of the session. Your input is always welcome. During the session, I will check in with you a few times as to your comfort and the pressure I am using.

---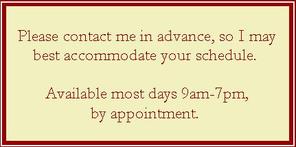 Licensed Massage Practitioner# MA60023908